News
Next Test Track Open Day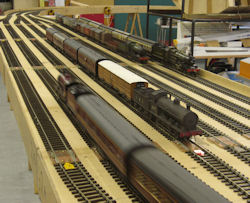 The O gauge test track [Photographer: Gary Kerr]
Our next club open day is being held on Saturday the 29 October (confirmed) and we charge £4.00 per person to cover the rental of the hall.
We now have a N-gauge test track.
Our N-, (two DC and one DCC loops); OO-, (four DC and one DCC loops) and O- (four DC loops but one can be run on DCC if requested) gauge test tracks will be set up for operation. In busy periods we may have to introduce a time limit on occupation of a track to allow everyone a fair turn.
There is usually someone around to give advice on a poorly running loco and some small fixes may be possible (for a small donation to club funds).
Bacon rolls, teas and coffees and other refreshments will also be available throughout the day.
Some photos of previous open days appear in the gallery section. As a reminder this is not an exhibition so please bring along your stock to run.